Na skutek działających czynników zewnętrznych takich jak zanieczyszczenia atmosferyczne, promienie UV, woda, wysokie i niskie temperatury, zalegający śnieg itp. pokrycie naszego dachu z czasem traci swoje walory estetyczne i funkcjonalne. Wszystko to powoduje, że dach szybko się niszczy i dodatkowo zaczynają porastać go glony, pleśnie, mchy i różnego rodzaju grzyby. Wygląd takiego dachu na pewno nie jest walorem estetycznym naszego domu.
Oferujemy Państwu usługi w zakresie :
mycia/ czyszczenia dachów ( usuwanie glonów, mchów itd.)
impregnacja dachów
malowania dachów
układania dachówki, blachodachówki itp.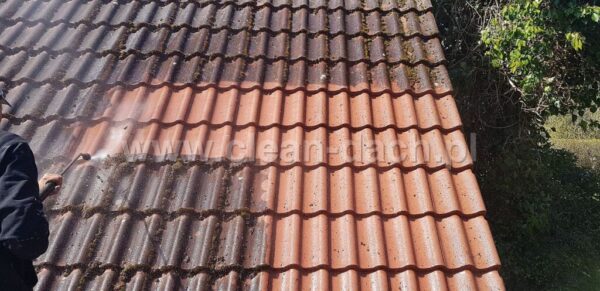 Czynniki, które mają wpływ na wycenę zlecenia to m.in:
rodzaj i stan techniczny pokrycia dachowego (dachówka, blacho dachówka, bitumiczny, papowy itd.)
metraż dachu
rodzaj i wielkość zanieczyszczenia (np. pył, mech, grzyby, inne)
ilość i rodzaj środków chemicznych i technicznych koniecznych przy wykonywaniu usługi
utrudnienia techniczne (dostęp, wysokość budynku, inne)
Koszt wykonania prac jest wyliczany indywidualnie po oględzinach miejsca wykonania usługi.
Usługi realizujemy na terenie całego kraju.
Umów się na wycenę zlecenia